Paper Magician is another book that I got on Amazon for very cheap. I think this was one of the books that they preview and that's why it was so cheap. It looked like the genre that I like (action with romance is my thing.) so I hit the buy it now button (that is a dangerious thing!).. and it say waitinf to be read like many, MANY of the books I both own in physical form and books on my Kindle. After finishing Confessions of a Prairie Bitch I had been bit by the cell phone reading bug and I started this book. It took a day or two for it to grab me (when you're only spending 5 minutes at a time with a book it takes a bit to get into it) but when it did I was stuck. I ended up staying up late and finishing it in bed which is something that I haven't done in awhile.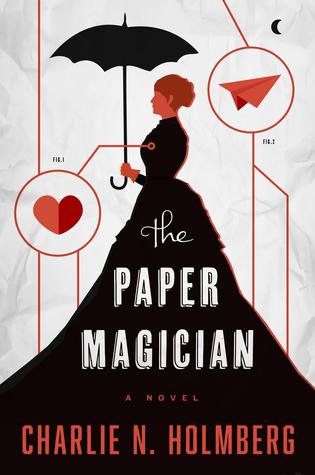 Paper Magician was written by Charlie N. Holmberg. I read a lot of reviews after my first 5 minutes of reading (I kind of wanted to punch the bratty heroine) and they were mixed at best. But I didn't have much to lose so I kept reading.
Ceony Twill has graduated from magic school and been sent to work with paper instead of smelting which is what she really wanted. Apparently if you are magical you get to pick one of the specialties and learn that particular type of magic. Ceony made NO BONES about not wanting to work with paper but her (handsome) quirky teacher  Emery Thane quickly wins over her heart (paper dog anyone?!). When he is injured it's up to Ceony to save him. The book is part 1 of a trilogy so I'll have to wait for the sequel but one thing that I very much liked was that the story had an ending. So if for some reason I never pick up the next book I won't be left hanging.
I give the book ***1/2 stars. If you can get it for under 5 dollars do it.